Guy Aitchison from OurKingdom posted a simple question on Friday morning – Is This Democracy? No. No, it's not. I believe that our hung parliament can only be resolved by electoral reform. So this afternoon I rallied with hundreds of friends from many different groups in Trafalgar Square to Smith Square shouting Fair Votes Now!
Rupert Murdoch and News Corpse was slain below Nelson. I'm sure he would have approved.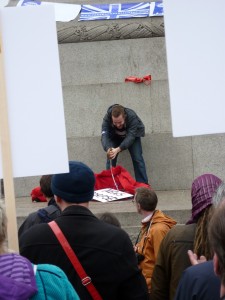 Billy Bragg sang us a song.
And invited us to join him on a walk down to Smith Street where a meeting of Liberal Democrat MPs needed to hear our voices.

>